Posted: Nov 18, 2015 3:06 PM ESTUpdated: Nov 18, 2015 7:26 PM EST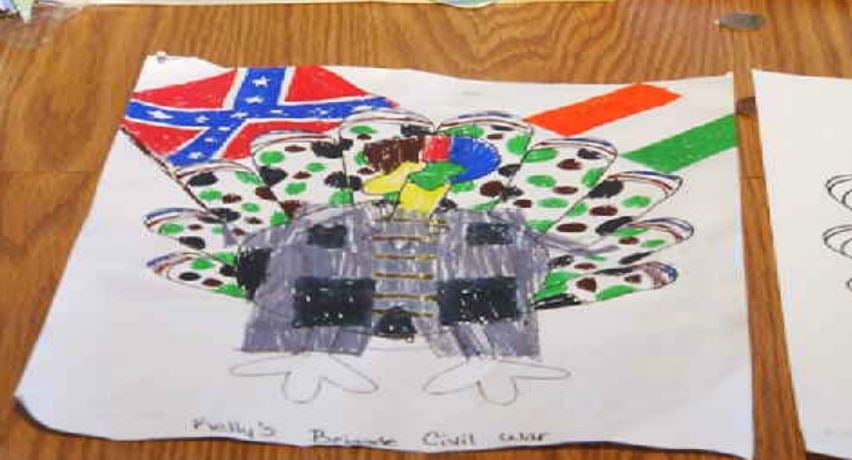 MIDLAND, MI (WNEM) –
A 7-year-old's class project has sparked a bit of controversy in a Mid-Michigan community.Melissa Bradley's son had a project, color a fun turkey in disguise so it doesn't get eaten on Thanksgiving.
To Bradley's son, Thanksgiving means family, so he colored it in a way he felt represented his family.
"Jeremiah, my son, decided he wanted to do a confederate flag and an Irish flag," Bradley said.
She says Jeremiah has grown up seeing both flags around his house. The Irish flag represents his family's homeland. The "Stars and Bars" relate to his family members who generations ago fought for the South in the Civil War.
"My husband's family actually fought for Kelly's Brigade," Bradley said.
Jeremiah didn't know his drawing would offend anyone, but it did.
Shortly after turning the project in he came home with another blank turkey to draw on.
"Other parents said we were teaching our son racism and teaching our son to be disrespectful. We got a lot of reports about it," said Bradley.
TV5 contacted the school, and Midland School Superintendent Michael Sharrow said the district did not interfere with the boy's school project.
Sharrow said it was his mom who asked for another blank paper after parents complained.
Bradley is not happy, and said her son's creativity was stifled, and she doesn't understand the uproar.
"He was doing what he interpreted the project to be. You can't tell a 7-year-old that misinterpretation is wrong," Bradley said.
But Jeremiah will be coloring a new turkey, this time in a U of M football uniform.
Copyright 2015 WNEM (Meredith Corporation). All rights reserved.
Read more: http://www.wnem.com/story/30551389/confederate-turkey-flap#ixzz3sWIQmKFz