Dozens support Confederate flag at school meeting
HARRISBURG — Trenton Byrd has been wearing a Confederate flag belt buckle to school for the past two weeks without issue, unlike late last month when the Harrisburg High School student was sent home over what he said was his right to free speech when he refused to change a T-shirt bearing the flag.
The incident-free weeks are exactly what he wants, to be unencumbered as he exhibits his pride in the heritage of the South that he maintains has is not driven by racism as others believe.
"I really hope they just drop it," Byrd said while leaving the meeting. "We're not causing any trouble. The only people really causing any drama are the kids that are against it, whether they be white, African-American or Hispanic."
Byrd said flags have been burned and that his vehicle was damaged but claims, with the backing of others, that proponents have not retaliated.
Byrd and 36 others, including middle school, high school and college students and several parents in support of them, addressed Harrisburg School Board members Tuesday night, asking that their free speech rights be preserved.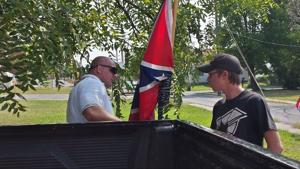 HARRISBURG – As it has elsewhere in the country, the debate over a student's right to display the Confederate flag at school versus district policy to prevent disruption to its education reached Harrisburg last week when an 18-year-old high school student refused to turn his T-shirt inside o…
Many of them arrived at the Middle School in a group, their vehicles parked on school grounds adorned with the rebel and American flags raised high on the back end of pickup trucks.
Byrd showed up wearing the same T-shirt that led to his removal from the school, an excused absence with no disciplinary action attached to the incident.
School board members listened intently to Byrd and those students and parents who spoke, as well as to James W. Dismuke, an African-American father of a 16-year-old daughter who attends the high school and his belief that the Confederate flag symbolizes racism and hatred.
The school officials did not discuss the issue or ask speakers questions. Speakers on either side of the issue were calm and respectful, some even meeting in the hallway outside the board meeting to further talk about the meaning of heritage and race.
Casey Perkins, whose daughter and son-in-law attend the school, stood up for the students' rights to display the flag on school property. He and others said if those displays are not allowed because it makes some students uncomfortable, then other symbols, from those representing gay rights to the cross to the American flag, itself, should also be banned.
References were made to the Ku Klux Klan carrying the Confederate flag, just as they have the cross and the American flag. Perkins also recalled a past Harrisburg class photo showing the Confederate flag.
"How is it we can decide it is racism? How is it our job? It didn't stand for racism. If you look in your history book, you will find out Abe Lincoln sat in a Confederate flag draped chair," Perkins said, wearing a T-shirt of the 16th president.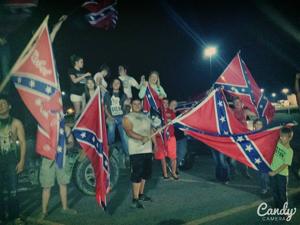 HARRISBURG — Two students were suspended from Harrisburg Middle School this week because of fighting, possibly in connection with the recent flare-up over the Confederate flag.
Dismuke said he attended the meeting planning to only listen, but what he heard pushed him to speak out, inviting flag proponents to explain to him how race is not part of the heritage they stand behind when slavery was as much a part of the country as it was the war that sought slave's freedom and the South's efforts to secede from the Union.
There has been too much traffic on Facebook to suggest there is more to the flag movement than heritage, posts that indicate racism is a motivation, he said, more so addressing the proponents than the school officials.
"You can't be using the words that are being used and say that your heritage is not about hate if you still use that word with the connotation that belittles people," he said. "It just can't happen."
To Superintendent Michael Gauch, the issue for the district is one that centers on disruptions in the classroom and whether all students are comfortable in the learning environment.
Byrd was asked last month to change his shirt by turning it inside out because students complained. The same would be true of other disruptions brought to the administration's attention, he said.
"We don't think any of these kids in here tonight are racist. No way are we saying that. It was a disruption in the educational environment and we have to fix those kinds of things," Gauch said.
As for Byrd wearing his belt buckle the last two weeks, Gauch said no one has complained about it and no requests have been made that he remove it. Some did complain about another student's buckle, and he was asked to pull his shirt over it.
One parent did raise the idea of school uniforms Tuesday, an idea some board members have raised in the past. Gauch said that is an idea that could eventually be brought up for discussion, though he added: "I don't think we want to go there."
Meanwhile, Byrd said he will continue to push for the right to display the flag at school. He and others are planning to participate in the homecoming parade next month bearing the Confederate flag.